Last month's challenge must not have been as challenging as I thought. The correct answer was given by WarK within an hour of the blog going up.
Deinonychus antirrhopus
This critter is indeed Deinonychus antirrhopus.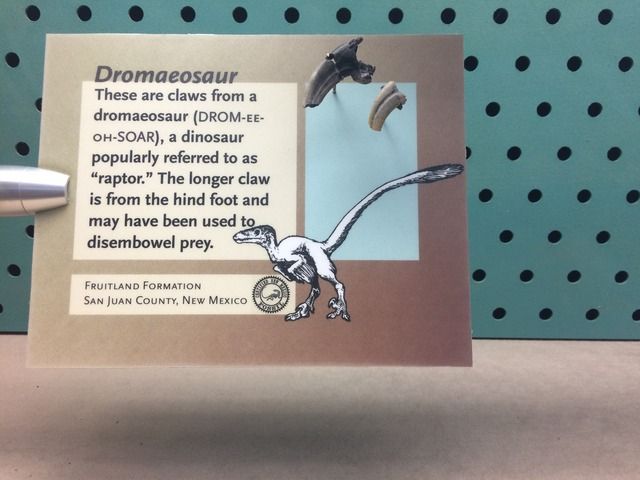 (Taken at the New Mexico Museum of Natural History and Science)
Deinonychus lived during the early Cretaceous 115 to 108 million years ago. Deinonychus stood ~87 cm at the hip, reached ~3.4 meters in length, and weight ~73 kilograms. Deinonychus lived in what is now the modern western U.S. with possible fossils of it found in eastern states. Deinonychus belongs to the dromaeosaurid clade. Deinonychus (meaning terrible claw) is named for the claw found on the second toe of each foot. This claw was retractable, meaning that it kept it off the ground so it would remain sharp for the animal's entire life. It also had three sharp claws found on each hand.
Bite marks from Deinonychus have been found on herbivorous dinosaurs. Measuring the amount of force needed to puncture the bone reveals that Deinonychus had a bite strength roughly the same as an American alligator. It is believed that Deinonychus lived and hunted in packs. Working together, they would have been able to take down much larger animals. The first Deinonychus specimen discovered is what reignited the idea that birds were closely related to dinosaurs in the 1960s. Since than, it is now believed (based on specimens of closely related animals) that Deinonychus also possessed feathers; in fact, the whole dromaeosaurid clade could have possessed feathers.
Moving on to next month's challenge:

(Taken at the New Mexico Museum of Natural History and Science)
Above is the last Know Your Bones challenge I will be doing for a while. I am going to focus this blog in a different direction. I just wanted to finish off with this specimen, because it is one of my favorites.