Last month's challenge was extremely easy, so easy in fact that just an hour after being posted Inferno gave a correct answer. However, and this seems to be a theme for this series, WarK posted an even more correct answer a few hours later.
 Stegosaurus stenops

I'm guessing with the latter part of the name. From what pictures I could find online that one looked the closest to the picture posted by the Bone Torturer
This is indeed Stegosaurus stenops, a very famous dinosaur.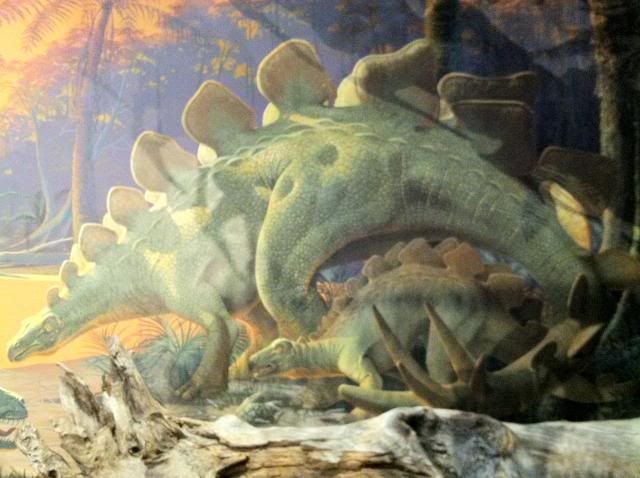 (Taken at the New Mexico Museum of Natural History and Science)
Stegosaurus ranged across most of western North America during the late Jurassic 150 to 145 million years ago, and one specimen was discovered in Portugal. Stegosaurus is found in the Morrison Formation in North America. Stegosaurus stenops could reach a size of ~7 meters in length, although some species of Stegosaurus could reach lengths of ~9 meters. This sounds impressive, but one has to remember that Stegosaurus would have been dwarfed by the sauropods found at the same time and place.
(Taken at the New Mexico Museum of Natural History and Science)
There are two main branches of dinosaur, ornithischians ("bird" hip) and saurischians ("lizard" hip). Stegosaurus belongs to the ornithischian clade. This means that Stegosaurus possesses a pelvis that superficially resembles a modern bird pelvis. Stegosaurus also belongs to the Thyreophora (armored dinosaur) clade. This clade includes all the dinosaurs that had armored backs and tales. The plates found on the back of Stegosaurus and the spikes on its tale make Stegosaurus one of the easiest dinosaurs to identify. The spikes on its tale were most likely exclusively used as defensive weapons against the predators of its time. However, the plates on the back of Stegosaurus may have been used for thermal regulation as well as defense. The plates show blood vessels ran across their surface. This could have also been used for colorful displays when blood was pumped into them.
Moving on to this month's challenge: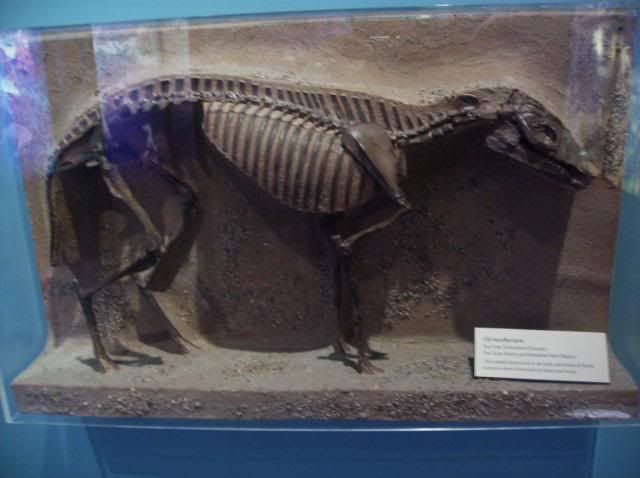 (Taken at the New Mexico Museum of Natural History and Science)
Good luck.