Last month's challenge sparked a great discussion about the fenestrae found on the skull of some dinosaurs. By the end of it, we had come up with two or three different projects for Isotelus to work on. The discussion was so involved that only one person guessed on the actual challenge.
PS The dinosaur in this month's challenge is Allosaurus. As you said, it was easy!
Dragan Glas is correct; this critter is Allosaurus.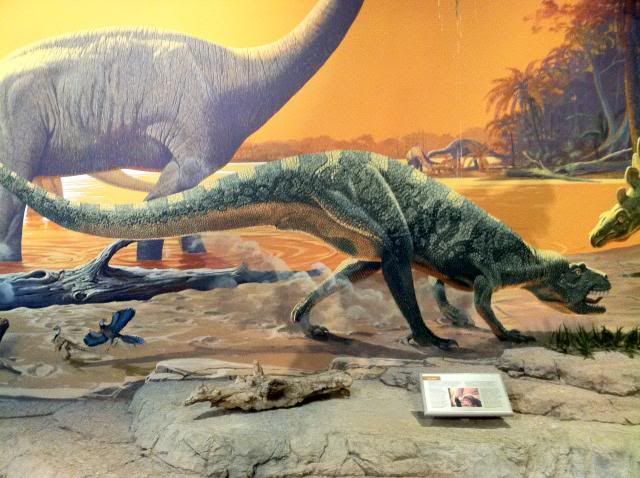 (Taken at the New Mexico Museum of Natural History and Science)
Allosaurus fragilis lived during the late Jurassic from 155 to 145 million years ago. The average length of an Allosaurus was 8.5 meters (however, some fragmentary remains have been interpreted as being ~12 meters) and weighed in at ~2.3 tons. Allosaurus possessed a large skull ~84 cm in length, which was lightly built, with ~20 pairs of teeth on both the top and bottom jaw. The teeth of Allosaurus were constantly being replaced throughout the life of the animal, making their teeth very common fossils. The skull also had a pair of small horns above the eye. The purpose of the horns is unknown, but could be related to display, combat against other Allosaurus, or just keeping the sun out of the eye of the animal. Allosaurus possessed short (for its size) forearms that had three fingers, which had strong, large curved claws. The forearms were very powerful and most likely used for hunting.
Allosaurus was one of the largest predators of the Jurassic and would have prayed upon a number of different dinosaurs. Allosaurus is one of the best-understood theropods (perhaps dinosaurs) we have ever discovered. In the Cleveland-Lloyd Dinosaur Quarry (Utah, USA) alone there are at least 46 different individuals of Allosaurus discovered. This quarry has individuals ranging from multiple age groups, from specimens that are less than a meter in length on through full-grown adults. This has allowed paleontologists to reconstruct a wonderful life history for Allosaurus.
Moving on to this month's challenge: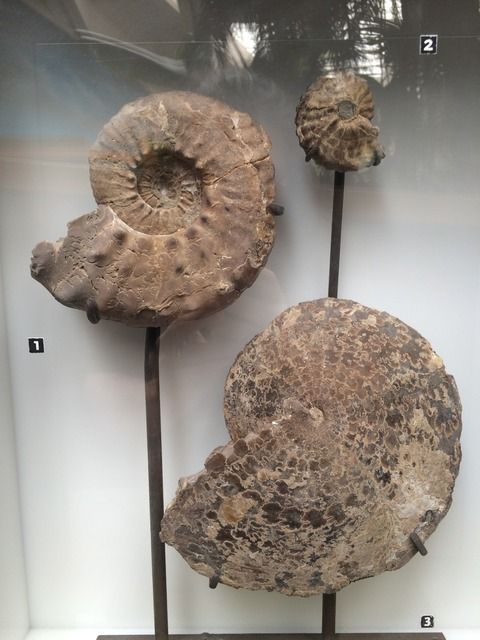 (Taken at the New Mexico Museum of Natural History and Science)
I am not looking for a specific species name this week (but major props to anyone that can do that), but what are these specimens examples of? Good luck to everyone that participates.