There were only two guesses for last month's challenge, both correct, but one being more correct. I have a feeling that the reason only two people guessed is because this one was such an easy specimen. So, who won, who was the more correct of the two?
Camarasaurus
It turned out to be WarK, because the other guesser gave the wrong species name. The critter from last month is Camarasaurus supremus.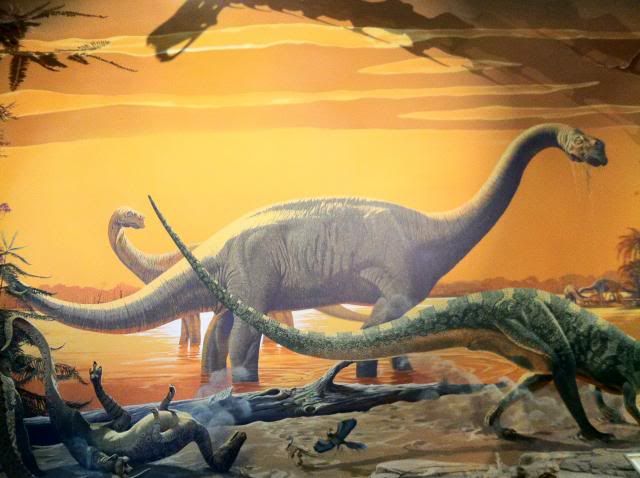 (Taken at the New Mexico Museum of Natural History and Science)
Camarasaurus lived during the late Jurassic 155 to 145 million years ago. It ranged across most of North America and is an extremely common dinosaur in the Morrison Formation. Camarasaurus had an average length of 18 meters and weighed up to 18 tons. Remarkably, several complete skeletons of Camarasaurus have been discovered in Wyoming, Colorado, Utah, and New Mexico. Based on their fossil abundance it is assumed that they roamed around North America in large numbers during the late Jurassic and may have had one of the largest populations of sauropods, if not dinosaurs, known thus far.
Camarasaurus means "chambered lizard;" it most likely got this name from the hollow bones that make up much of the vertebra or the many fenestrae found on the skull. Camarasaurus had chisels shaped teeth that were 19 cm long. The shape of the teeth and strength of the skull suggest that Camarasaurus specialized in eating coarser plant matter. This is different from other sauropods, thus Camarasaurus most likely inhabited a different environment then its cousins that also lived during this time. Camarasaurus remains are found together in a lot of sites, suggesting that they lived and died in herds.
Moving on to this month's challenge: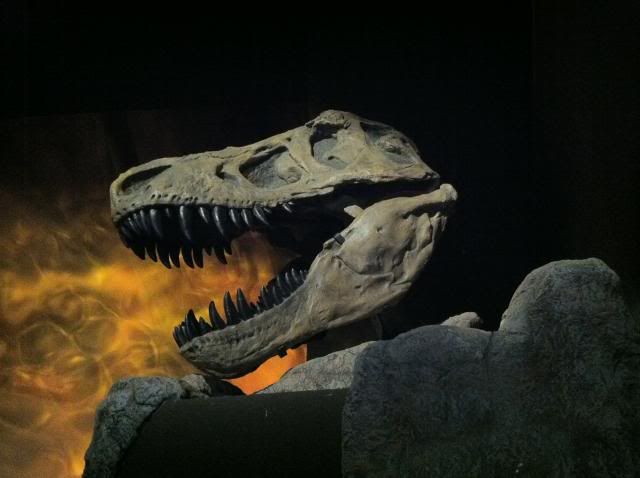 (Taken at the New Mexico Museum of Natural History and Science)
Here we have a terrifying critter, which is appropriate for this month. Thanks for playing and good luck.