I have to say, I am surprised it took so long for anyone to take a stab at guessing this iconic fossil. By the trepidation of our winner and the following guesser, perhaps the readership of this blog finds me to be a trickster. With that said what critter once owned the skull from last month's challenge?
Something tells me this is too easy to be correct.
Nope WarK, I was not trying to trick anyone. This critter is indeed the tyrant king of the dinosaurs, Tyrannosaurus rex.

(Taken at the New Mexico Museum of Natural History and Science)
T. rex lived during the late Cretaceous 68 to 65 million years ago; it also happened to be one of the last non-avian dinosaurs that we know about. It ranged across western North America, with its fossils (mostly teeth) found from Alaska down to Mexico. T. rex could grow as large as ~4 meters at the hip, 43 meters long and weigh between 5.5 to 6.8 tons. This makes T. rex one of the largest predatory dinosaurs and one of the largest predators to ever walk the earth. Full-grown animals had a skull ~1.5 meters in length. The teeth of T. rex ranged from 30 cm long (including the root) to 13 cm long (including the root) in adults. The teeth would have been continuously replaced during life and were re-curved with ridges on the surface. T. rex famously has small arms (about the length of an adult human's arm) with only two fingers. However, the arms appear very muscular, leading paleontologists to speculate that the arm could have been used for something (e.g. assisting in lifting the animal up when it sat down) instead of just a vestigial structure.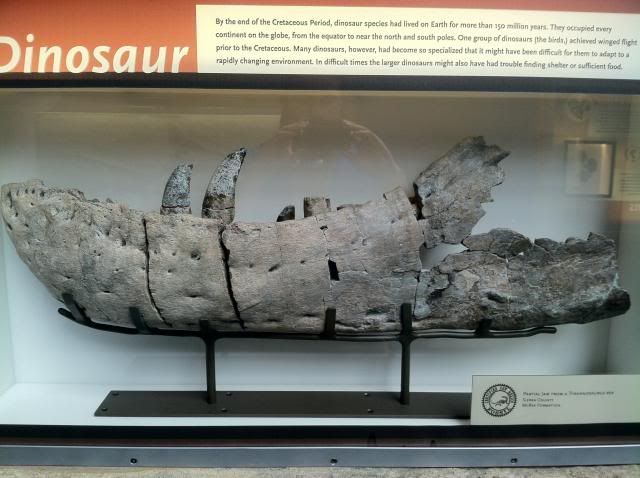 (Taken at the New Mexico Museum of Natural History and Science)
Over 30 specimens of T. rex have been discovered to date, making T. rex a very well studied dinosaur. T. rex is a theropod, but within that clade, it is closer in relation to dromaeosaurs than it is to other giant carnivores, such as Allosaurus. Because of this, and fossil finds of earlier relatives, it is possible that T. rex could have had feathers. However, a few skin impressions has only shown scales, which leads some to speculate that  T. rex could have had full body feathering as a hatchling, but later sparse to no feathering as an adult due to its large size.

(Taken at the New Mexico Museum of Natural History and Science)
Two possible footprints have been found of T. rex, one of which was found in New Mexico. It measures 83 cm by 71 cm and possesses a "heel" print plus the print of the dewclaw-like forth digit found on the feet of T. rex. T. rex is also famous for being the first dinosaur found with soft tissue associated with it. In 2005, Dr. Mary Schweitzer published her discovery of it, since than several more finds have been made of soft tissue. Dr. Schweitzer and others have found trace soft tissues, and when they are analyzed and compared to living organisms, it shows that T. rex's closest living relatives are birds. These findings align with the conclusions paleontologists were making for decades based on morphology.
Moving on to next month's challenge:

(Taken at the New Mexico Museum of Natural History and Science)
Good luck to all that play.